The Devil and Mr. West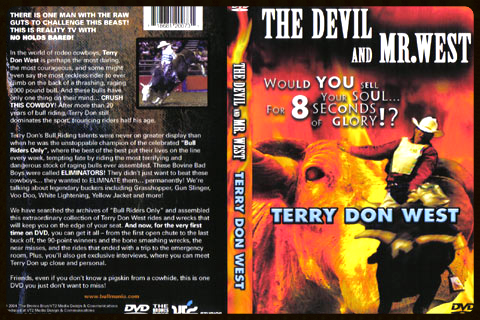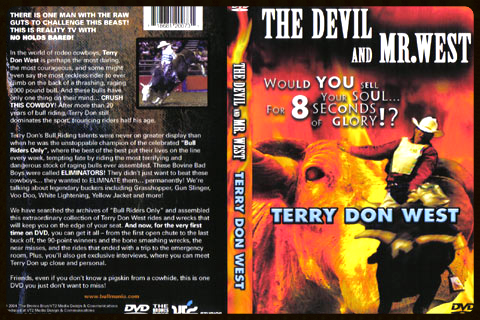 sale
The Devil and Mr. West
THERE IS ONE MAN WITH THE RAW GUTS TO CHALLENGE THIS BEAST! THIS IS REALITY TV WITH NO HOLDS BARED!
In the world of rodeo cowboys, Terry Don West is perhaps the most daring, the most courageous, and some might even say the most reckless rider to ever climb on the back of a thrashing, raging 2000 pound bull. And these bulls have only one thing on their mind…CRUSH THE COWBOY! After more than 20 years of bull riding, Terry Don still dominates the sport, trouncing riders half his age.
Terry Don's Bull Riding talents were never on greater display than when he was the unstoppable champion of the celebrated "Bull Riders Only", where the best of the best put their lives on the line every week, tempting fate by riding the most terrifying and dangerous stock of raging bulls ever assembled. These Bovine Bad Boys were called ELIMINATORS! They didn't just want to beat these cowboys…they wanted to ELIMINATE them…permanently! We're talking about legendary buckers including Grasshopper, Gun Slinger, Voo Doo, White Lightening, Yellow Jacket and more!
We have searched the archives of "Bull Riders Only" and assembled this extraordinary collection of Terry Don West rides and wrecks that will keep you on the edge of your seat. And now, for the very first time on DVD, you can get it all – from the first open chute to the last buck off, the 90-point winners and the bone smashing wrecks, the near misses, and the rides that ended with a trip to the emergency room. Plus, you'll also get exclusive interviews, where you can meet Terry Don up close and personal.
Friends, even if you don't know a pigskin from a cowhide, this is one DVD you just don't want to miss!
[SE TDW]